« Family CD | Main | Old Archives | Hammering Away »
November 27, 2004
Downtown
It's beginning to look (and sound) a lot like Christmas. I love it. Yesterday we spent the morning downtown with my sister Margie and her four kids. We watched the Holiday Parade starring the Ackerman Middle School Marching Band. Then we herded the six kids to Starbucks for a little pick me up of lattes and cocoa Another 6 blocks took us to Meier & Frank. Each year they decorate their windows with to the whimsical theme of 12 Days of Christmas. We took the elevator up to the 10th floor -Santaland. The older kids rode Santa's Skyway Monorail- just right for 4 and 5 year olds.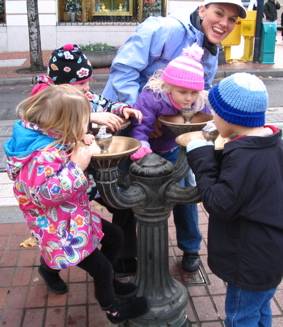 As we trudged back to the car the kids enjoyed looking at the huge Christmas tree in Pioneer Square and drinking from the cool water fountain. It was a very fun and festive morning.
Posted by jennifer at November 27, 2004 01:25 PM
Comments
Hey! What happened to the poker ads? I thought they added to the festive atmosphere.
Posted by: J.D. at November 29, 2004 01:01 PM