« Thankful | Main | Old Archives | Watercolor Rendition »
November 22, 2004
How Much Wood Coulda...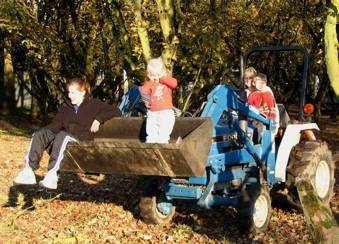 Thanks you so much to our friends Mike Hansen and Mac and Pam Smith for all your help removing trees. John went to the Duck/Beaver game on Saturday afternoon so I had to learn how to drive the tractor. Pretty simple really.
We finished the first phase of the outside projects, tree removal. I count 35 tree stumps. Our yard looks like a clear cut at the moment. It will be nice to get the stumps removed and the ground prepared for something else. We don't know how far along we can get in any of the outdoor projects (deck, driveway, landscaping) before the really wet weather sets is.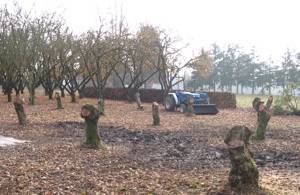 Our filbert wood pile is pretty impressive!
Posted by jennifer at November 22, 2004 09:37 AM
Comments
At first I look, I thought I had been replaced, but on closer inspection I see that Harrison was helping Jennifer drive the tractor.
Posted by: GrandpaG at November 22, 2004 04:47 PM
Posted by: JudyTurdCurls at November 22, 2004 08:09 PM