« Indoor Entertainment | Main | Old Archives | Junior Baker »
January 06, 2005
Good Eats in Yakima
Food is always a big deal when we get together with Karen & Rich, my sister and brother in law. Rich made his famous spaghetti and meatballs on Monday evening. Last night we had Jeremy's grilled salmon. We finished the meal with chocolate fondue. There was just as much fondue on children's clothing, faces and the tablecloth, as there was in our bellies.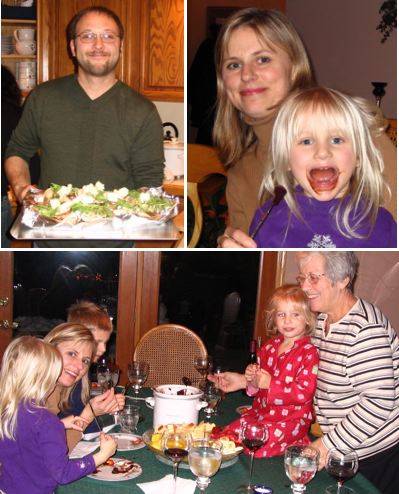 Tonight the big kids are going out to eat while the grandparents watch the grandkids. Thanks Mom and Dad. Good luck!
Posted by jennifer at January 6, 2005 05:31 PM
Comments
Posted by: Judy Turd Curls at January 6, 2005 07:38 PM
it's wonderful to see your pictures- looks like you're having a great time in Yakima. we have snow in Goshen, too, but no fun hills to sled down. only messy roads... but it's still pretty, i guess. :) miss you all and can't wait to see you again soon- have a fun time and a safe drive home. love you!
Posted by: Jennifer lyn at January 7, 2005 06:07 AM
Posted by: J.D. at January 15, 2005 12:29 PM