« Snow Fun | Main | Old Archives | Indoor Entertainment »
January 04, 2005
More Snow Fun
The snow fun continued all day yesterday. To add to the thrill of the ride we built three jumps and spent several hours competing to get the most air. Needless to say we are all a little sore this morning and have not ventured outside yet. We did however have a beautiful sunrise!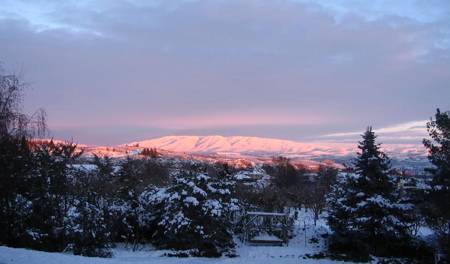 JEREMY SAYS:
Jennifer forgot the most important picture!!!!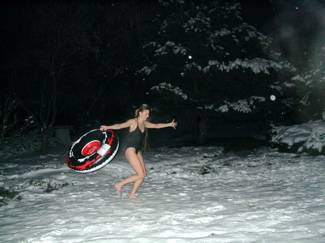 Rich and I goaded her into going down the hill in her swim suit when she got out of the hot tub (Harrison had been doing this repeatedly earlier in the day)!
HA HA HA HA HA
Posted by jennifer at January 4, 2005 10:38 AM
Comments
What fun! It looks like Harrison might have won the contest. And a great sunrise. Thanks!
Posted by: Louise at January 4, 2005 11:07 AM
WOW!!! The picture of the sunrise is gorgeous. I's so envious of that snow. I like the train ride down the hill!
Posted by: Judy Turd Curls at January 4, 2005 04:31 PM
Posted by: Kris at January 5, 2005 06:21 PM
Looks like YOU need to live in Goshen for a while. You might like it!
Jason
Posted by: Jason at January 8, 2005 08:17 PM