« Giving Gifts | Main | Old Archives | More Snow Fun »
January 03, 2005
Snow Fun
We are in Yakima, Washington visiting my parents. We ordered snow for the first week of the new uear and we got it! The adults spent a lot of time sledding yesterday. The kids only lasted a half hour at most. We felt compelled to develop several runs, including a long run down the neighbors grass field.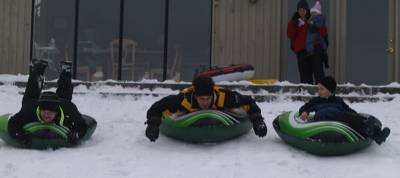 I did convince Harrison and Emma to come back out later in the day. Emma and I made snow kitties upon her request. I wonder where she got that idea?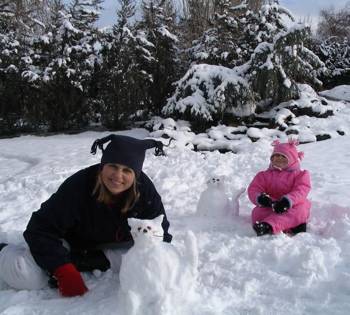 Jeremy and Rich have taken to spontaneously running outside for one run down the hill. After the kids were in bed the monnlight called us out for another long run. The hill was smooth and fast. Very invigorating!
Posted by jennifer at January 3, 2005 10:00 AM
Comments
Cute. Thanks for updating your page. We played in the snow too.
We went to Mt. St. Helens after taking Andrew & Brooks to the airport. Beautiful day. We're glad it's nice for you up there. We hope you will update the page at least once a day.
Posted by: GrandpaG at January 3, 2005 04:18 PM
Beautiful. The first snow kitty that I have ever seen. Hugs to all. Looks and sounds like lots of fun!
Posted by: Carolyn Joyce at January 3, 2005 08:46 PM
The snow and you are beautiful to see. I miss you all! We're hoping for some snow this later this week. Maybe you can show me how to make snow kittens.

Posted by: Judy Turd Curls at January 4, 2005 08:27 AM