« March 2006 | Main | September 2006 »
April 05, 2006
Warm and Fuzzy Welcome Home
The kids arranged all of the stuffed animals and Beanie Babies, with the help of Aunt Judy, on the piano to welcome us home from New York. The animals were sorted and displayed according to type, size, color, and holiday.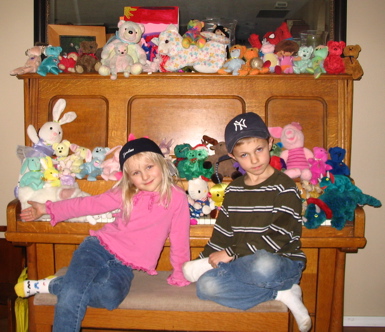 It sure was nice to come home to such happy kids. We are very appreciative of the grandparents who took such good care of them. We had only good reports, and were told the kids never complained of missing us. I guess I didn't need to feel guilty for the two weeks leading up to our trip. Being a mother is just one giant guilt trip for me. I can't help it. But I will keep working on it.
Being a parent also affords you with a lot of comedy relief, Emma's vocabulary has been quite entertaining lately. She is using words like receive and defeat, instead of get and lose. At the moment she is performing an opera with the PlaySchool castle. She is singing the entire story while acting it out with little figures. I wish I could record it for you all. It is hysterical. I can't let on that I'm listening or she becomes self conscious and stops.
The other day the kids called me back to the bedroom where they were having an argument about the word moderator. I have no idea where they picked up this word.
Emma: What is a moderator?
Me: Well, a moderator is someone who helps people solve problems or arguments.
Emma: I want to be a moderator when I grow up.
Harrison: Ugh, I knew it. She just always likes to be right. She likes to be the judge.
These are the strange and silly discussions that keep me laughing.
Posted by jennifer at 10:15 AM
Comments
April 03, 2006
Mesa Grill
This post is for all our foodie friends...
Our trip to New York would not have been complete without eating at the third and final Iron Chef restaurant, Mesa Grill. We love watching Bobby Flay add the southwestern flare and mix up his incredible sauces on Iron Chef. We made brunch reservations, since he loves to work with grits and eggs.
Knowing that the American Airlines provides no food on their flights, even the ones that last for 5 hours, plus an hour stuck on the runway, we decided to eat to our hearts content.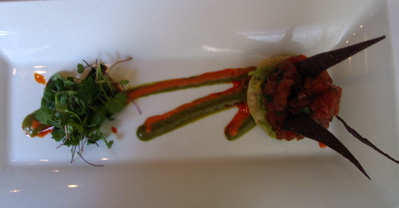 First we shared a tuna and avocado tartare with a micro green salad surrounded by those signature spicy sauces.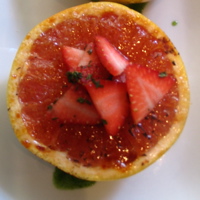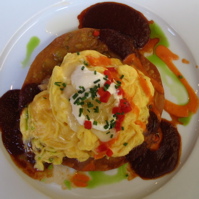 We also shared a caramelized grapefruit with mint and strawberry salad. For the main course I had eggs tostada. This was accompanied by white grits with fresh cilantro (no picture). Jeremy had a pressed pork sandwich (tasty, but nothing special for a picture).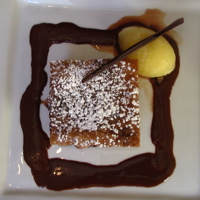 The dessert was outstanding! The pineapple chocolate napoleon was filled with a chocolate mousse infused with bits of pineapple. The dark chocolate pineapple sauce was so intense! The pineapple granita was cool and refreshing. I would love to experiment in making this.
I love taking pictures of the courses. People either think you are a freak, or they look at you knowingly. As it turns out our flight home took us about 20 hours due to thunderstorms. So it is a good thing we stocked up at Mesa Grill.
Posted by jennifer at 03:02 PM
Comments
I'm always scared to take photos in restaurants. I'll have to be more bold. Do you just do it and not care what others think? I'm such a wimp.
I'd never seen anything with Bobby Flay until yesterday. We watched the "next Food Network Star" marathon, and he was one of the main judges. I like him.
I think Jeremy should audition for the next "Food Network Star" series. Seriously. He'd be great. He has the passion, animation, and charisma needed to sell a dish. I think he'd have a lot of fun. *I* would watch a cooking show if he were the host...
Posted by: J.D. at April 17, 2006 12:15 PM
April 02, 2006
Culinary Delights
Finishing up our trip in New York..
On Saturday we joined a group of four women for a Culinary Tour of Little Italy and Soho. When we emerged from the subway we found ourselves at the edge of Chinatown, on Seuss' favorite, Mulberry Street. We enjoyed walking by a city park and watching the young and old playing soccer, throwing a baseball, going through karate motions, and brandishing large swords. We walked past lots of interesting seafood and amazing vegetables as we made our way to Little Italy.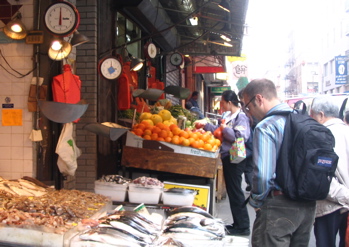 We met our tour group at Ferrara's bakery and had some delicious chocolate covered, cream filled, cannelloni.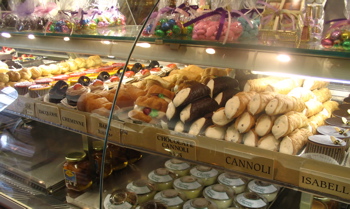 Our tour guide explained the history of these cultural areas based on immigration trends. After our day at Ellis Island this information added a whole new layer to our appreciation and understanding of the American immigrant. Over the years Little Italy has shrunk to just a few square blocks, while Chinatown has expanded to become the largest in our country.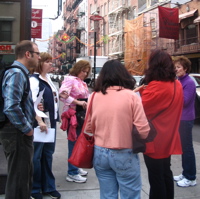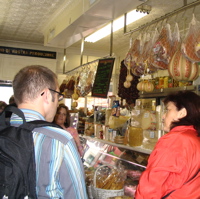 We enjoyed sampling cheese and sausage and bread from several small shops. Our tour guide, Naomi, knew all of the shopkeepers, and they were ready for our visit. In her words and actions you could see the admiration for these locals and their crafts. She explained that she likes to keep her tours small and intimate and on foot. This is in contrast to the "Sex in the City" tours, based on the TV show. The women who created these tours has huge buses with screens for watching scenes from the show while driving pst the actual New York location. She made 30 million last year on these tours. Naomi smiled, "She's my antithesis."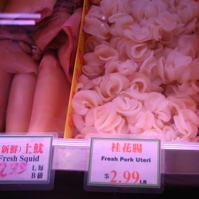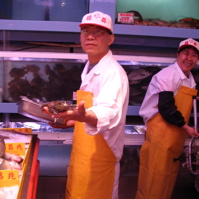 We took a few minutes to walk through a large Chinese Market. There were some very unusual ingredients on display.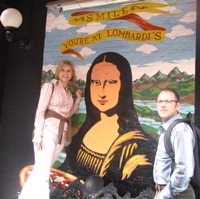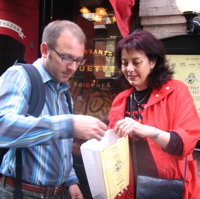 In Soho, an upscale area of Manhattan, we visited several shops with pricey kitchen gadgets and dishes. This area was rescued from becoming a freeway and preserving the historic cast iron buildings is a priority to the community. In contrast to Times Square, where every sign is required to be illuminated, there are no signs allowed on these buildings. Only small banners hang from flag poles along these cobblestone streets.
Our tour ended with lunch at a restaurant with a Caribbean flare. Naomi ordered several dishes to be served family style. I have to say that a culinary tour is a really good idea. I wonder if they have them in Portland?
After a long bath and a short nap, we were ready for our dinner at Morimoto's. This restaurant has only been open for two months. We had made reservations at the Omakase Bar and were hoping to see Iron Chef Morimoto.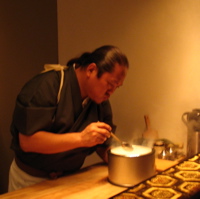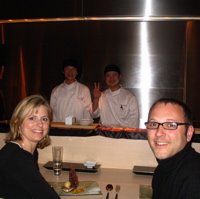 And we were not disappointed! He made several dishes for us, including frozen grapes in a mango sorbet. In the above picture he is stirring the grapes in liquid nitrogen. The two chefs in the picture with us, have also been on Iron Chef with Morimoto. We enjoyed watching all of the food preparations and one of the chefs asked, "Have you been to Japan before?" When I answered no, he stated that we acted as if we knew Japanese customs. I took this as the highest of compliments.
Posted by jennifer at 10:32 AM
Comments
April 01, 2006
Rags to Riches
A trip to New York would not be complete without a visit to Lady Liberty. The weather was beautiful and afforded us wonderful views from the ferry.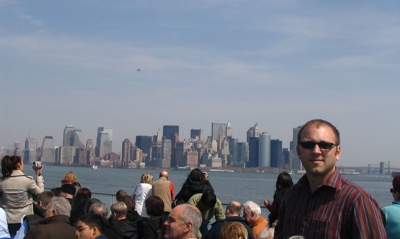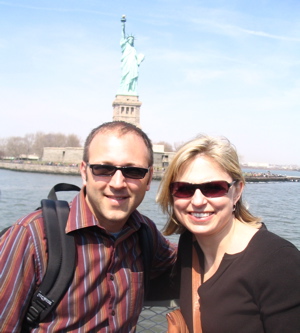 We did not get off the ferry at the statue, but went straight on to Ellis Island.
The museum at Ellis Island takes you through the experience of an immigrant arriving between 1880 and 1920. Beautiful photographs and interesting artifacts, along with reflections and explanations, really give you a sense of the frightening and heart wrenching adventure. It was an emotional experience to say the least, and the return trip on the ferry had us viewing the Statue of Liberty with a deeper sense of awe.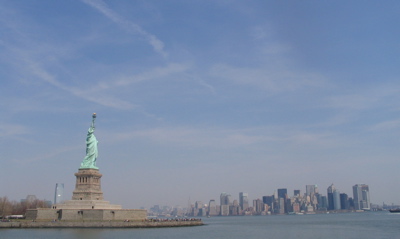 Upon returning to Manhattan we began another audio tour of the financial district beginning with the bronze bull -- both ends.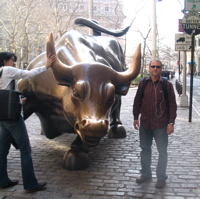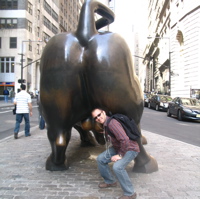 We paused to have some street food - grilled italian sausage with peppers and onions served in a warm pita. A great meal for a few dollars.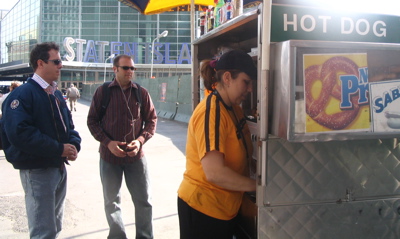 The contrast between old and new architecture in New York is fascinating. We saw Fraunces Tavern, the secret headquarters of the Sons of Liberty, the New York Stock Exchange, and many other significant and beautiful buildings.

When we finished the audio tour we were just a couple blocks from Ground Zero. This was not on our list of sights to visit, but we were so close we decided to walk past.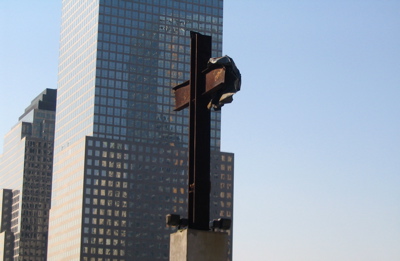 We also visited the small church directly across the street from the WTC, that miraculously withstood the destruction unharmed, and served as a center of solace for all of the rescue workers and volunteers for nine months. The church contains lots of memorabilia. An hour, and many tears later, we left the area emotionally drained.
Thank goodness our evening plans called for lots of laughing. We went to see the Mel Brook's Broadway hit, The Producers. It was sensational!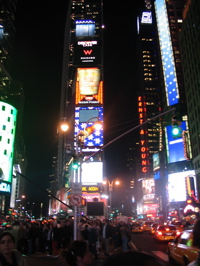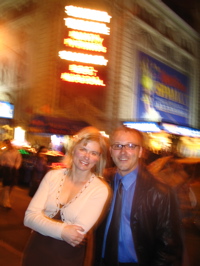 Notes from Jeremy:
I was unprepared for the wide range of emotions of our day. On our way to Ellis Island, as we passed the Statue of Liberty, I was enamored of the veiw, not only of the statue, but the rest of NYC. After touring the AMAZING Ellis Island Museum and learning about the struggle of our ancestors (and here I would like to point out that MANY, MANY, MANY of modern day Americans' ancestors came to this country through Ellis Island, or other immigration processing centers) as they came to this country which was (and is) so full of hope, opportunity, corruption, despair, and glory that veiwing the Statue of Liberty on the return trip was an entirely different experience. I think one particular exhibit at the museum stood out more than all the others and really changed my perspective on the return trip. The story goes a little like this: a boat was arriving and the passengers were told that they were near their destination. There was much crowding at the rails of the ship and everyone was jostling and things were very noisy. At the point when the passengers saw the Statue of Liberty everything went silent for a long period of time until a Jewish man (and I don't remember his nationality) loudly shouted (something like), "America, I kiss your ground" at which point cheers erupted on the boat. Wow, we should respect our land of hope and opportunity a little better!

Posted by jennifer at 02:34 PM
Comments
You know, I always make smart-ass comments around here, so I guess I should leave some praise, too. I've really enjoyed your New York entries. I've never been there, so it was to live vicariously through your words and photos. Thanks!
Posted by: J.D. at April 4, 2006 01:58 PM