« April 2005 | Main | June 2005 »
May 30, 2005
Planting Seeds and Trees
On Friday the kids helped me plant bean seeds. I created a circular raised bed in the middle of the garden. The beans will grow up string to make a lovely teepee. Harrison and Emma are expert planters, getting lots of instruction and practice from their grandparents.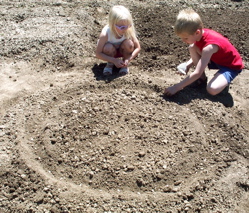 Jeremy planted lots and lots of plants this weekend, but this tree was definitely the biggest!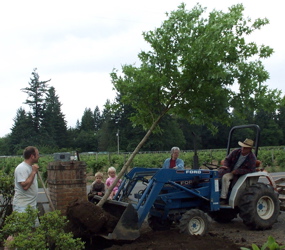 Posted by jennifer at 10:48 AM
Comments
May 26, 2005
Reading Acheivement
Harrison was selected from his kindergarten class to receive a Certificate of Achievement for his improvement in reading this year. Parents were invited to a breakfast to honor these students, one from each classroom.
The students straggled in during the presentation. Apparently the teachers had forgotten, or the office didn't make the announcement, or some other miscommunication occurred because only about half of the students were present. Lydia, Harrison's cousin, walked in about half way through the presentation, feeling quite conspicuous. Jesus, a non-English speaking second grader, also entered into the gym in bewilderment. The principal called his name and beckoned him forward in Spanish. Some parents tried to lead him to the front, but the petrified and confused boy would not budge from the back of the room. Harrison arrived during this altercation. The principal said a few more words before calling Harrison's name. Jeremy whispered something in Harrison's ear. Harrison walked back to Jesus, took hold of his arm and guided him gently to the front of the room. The crowd responded with oohs and ahhs to this sweet act of kindness. I felt very proud, a little for his reading achievement, but mostly for the quality of his character.
Posted by jennifer at 10:27 AM
Comments
May 21, 2005
Blueberry Scones
A few years ago Cook's Illustrated published a recipe for cream scones. They are so delicious: light, flaky, and slightly sweet. The original recipe calls for dried currants, which I like. A few weeks ago I picked up a bag of dried blueberries from Cosco. Fresh blueberries can make any pastry soggy, especially by the following day, but I love the flavor. So I decided to try out my favorite scone recipe with these dried blueberries. The results are being devoured. Emma is waiting for me to split open her second scone and spread on some butter and jam.
Here is the recipe...
2 c flour
1 Tbsp baking powder
3 Tbsp sugar
1/2 tsp salt
5 Tbsp butter (cold and diced)
1 c cream
1/2 c dried blueberries (or currants or craisins)
Preheat oven to 425 degrees. Put all of the dry ingredients in a food processor and combine. Dump in diced butter and pulse ten times. Pour in cream and pulse six times. Dump onto floured counter and knead together for ten seconds. Pat into two 5 inch circles and cut into 8 wedges. I also brush tops with a little cream and sprinkle with sugar. Bake for 12 to 15 minutes.
Posted by jennifer at 09:23 AM
Comments
Scones and Blueberries...I'll have to get Karen to give it a whirl. Ever since we found a big bag of dried blueberries at Costco, Sophia has stopped eating raisins.
Posted by: Rich R

at May 22, 2005 10:05 AM
May 16, 2005
Grand Lodge Getaway
For Jeremy's birthday I arranged a getaway for the two of us at Mcmennamin's Grand Lodge in Forest Grove.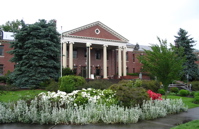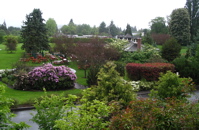 Our room was small and quaint, with a beautiful view. On Saturday morning Jeremy snuck out of the room, letting me sleep in. He came back with a pot of coffee, bagels and cream cheese, and a newspaper. We spent the next hour or so reading, sipping coffee, catching up on blogs (the lodge had wireless), and talking. This was the best part of the weekend for me. The chance to completely relax without guilt.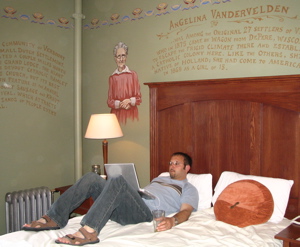 This being Jeremy's birthday weekend, we had sushi for lunch. Marine Polis is not your usual sushi place. A conveyer belt encircles the dining room delivering individual servings of sushi to all of the customers. You just grab a plate as it glides past your table. What do you know, I actually like sushi!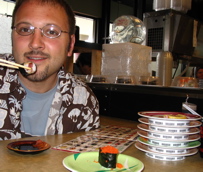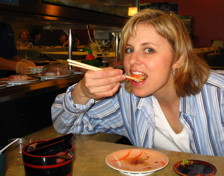 Posted by jennifer at 10:47 AM
Comments
Happy Birthday, Jeremy!
Mmmm....sushi... (Jen, talk my wife into liking it, will you?)
Posted by: Rich R at May 19, 2005 06:26 AM
May 15, 2005
Septic Success
About a month ago we discovered that our septic tank needed replacing. Jeremy never pays for a job to be done, at least not full price, if he can do part of it himself. Early Saturday morning the old tank was emptied, we paid for a company to do this. Then a friend, Jake Kenagy, came over with a borrowed track hoe. He removed the old tank and dug out a hole for the new tank.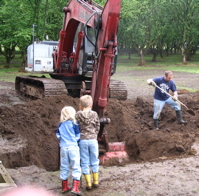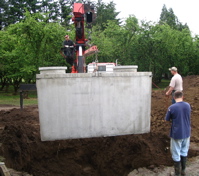 The new septic tank arrived and was lowered into the hole. Pipes were hooked up, dirt replaced, and our toilets were operational again!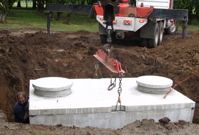 The kids enjoyed watching all of the big equipment. They came inside and played "septic tank" with the fire station. The firemen were transformed into Daddy and Jake Kenagy who rescued victims from the poop pile! There's a lot of new crap to learn about living in the country.
Posted by jennifer at 09:19 AM
Comments
I sure miss the comments part of reading your weblog. Can you disable this cumbersome signing-in process? Kris
Posted by: jdroth

at May 18, 2005 06:57 AM
May 10, 2005
Mother's Day 2005
The kids are sure enjoying this holiday! They started by letting Jennifer sleep until 9:00. They eagerly helped me prepare for her breakfast in bed.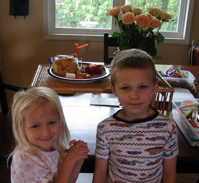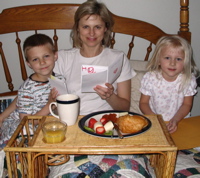 They even helped her eat it!!
After a nice service at church we went for a special lunch at Amadeus at Fernwood.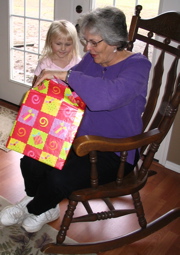 Late in the afternoon, my mother came for some relaxaion and dessert.
What a nice day to remember our mothers!!
Posted by jeremy at 08:04 AM
Comments
May 08, 2005
Peace for Mother's Day
An excerpt on Mother's Day from http://womenshistory.about.com
Julia Ward Howe's accomplishments did not end with the writing of her famous poem, "The Battle Hymn of the Republic." As Julia became more famous, she was asked to speak publicly more often. Her husband became less adamant that she remain a private person, and while he never actively supported her further efforts, his resistance eased.
She saw some of the worst effects of the war -- not only the death and disease which killed and maimed the soldiers. She worked with the widows and orphans of soldiers on both sides of the war, and realized that the effects of the war go beyond the killing of soldiers in battle. She also saw the economic devastation of the Civil War, the economic crises that followed the war, the restructuring of the economies of both North and South.
In 1870, Julia Ward Howe took on a new issue and a new cause. Distressed by her experience of the realities of war, determined that peace was one of the two most important causes of the world (the other being equality in its many forms) and seeing war arise again in the world in the Franco-Prussian War, she called in 1870 for women to rise up and oppose war in all its forms. She wanted women to come together across national lines, to recognize what we hold in common above what divides us, and commit to finding peaceful resolutions to conflicts. She issued a Declaration, hoping to gather together women in a congress of action.
Mother's Day Proclamation - 1870
by Julia Ward Howe
Arise then...women of this day!
Arise, all women who have hearts!
Whether your baptism be of water or of tears!
Say firmly:
"We will not have questions answered by irrelevant agencies,
Our husbands will not come to us, reeking with carnage,
For caresses and applause.
Our sons shall not be taken from us to unlearn
All that we have been able to teach them of charity, mercy and patience.
We, the women of one country,
Will be too tender of those of another country
To allow our sons to be trained to injure theirs."
From the voice of a devastated Earth a voice goes up with
Our own. It says: "Disarm! Disarm!
The sword of murder is not the balance of justice."
Blood does not wipe our dishonor,
Nor violence indicate possession.
As men have often forsaken the plough and the anvil
At the summons of war,
Let women now leave all that may be left of home
For a great and earnest day of counsel.
Let them meet first, as women, to bewail and commemorate the dead.
Let them solemnly take counsel with each other as to the means
Whereby the great human family can live in peace...
Each bearing after his own time the sacred impress, not of Caesar,
But of God -
In the name of womanhood and humanity, I earnestly ask
That a general congress of women without limit of nationality,
May be appointed and held at someplace deemed most convenient
And the earliest period consistent with its objects,
To promote the alliance of the different nationalities,
The amicable settlement of international questions,
The great and general interests of peace.
Posted by jennifer at 10:12 AM
Comments
May 06, 2005
Flip Flap Jacks
Don't you just love pancakes for dinner?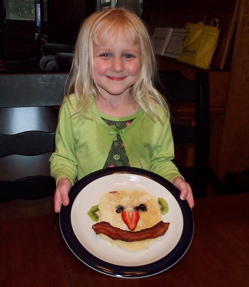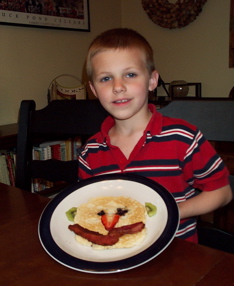 A little ditty from Wilsonville Library Storytime...
There was a man and he was made of food
And his name was flip flap jack
His head was made from a pancake
His eyes were made from blueberries
And his name was flip flap jack
His nose was made from a strawberry
His mouth was made from bacon
And his name was flip flap jack
His ears were made from kiwis
And he danced upon the table
And his name was flip flap jack
Posted by jennifer at 08:08 AM
Comments
May 04, 2005
Tadpoles
I don't know who is having more fun watching these little guys grow, the kids or me.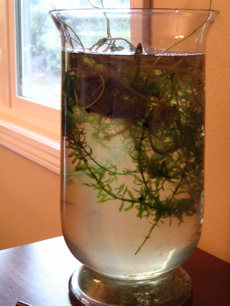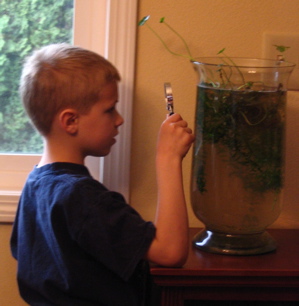 Posted by jennifer at 11:20 PM
Comments