« Culinary Delights | Main | Warm and Fuzzy Welcome Home »
April 03, 2006
Mesa Grill
This post is for all our foodie friends...
Our trip to New York would not have been complete without eating at the third and final Iron Chef restaurant, Mesa Grill. We love watching Bobby Flay add the southwestern flare and mix up his incredible sauces on Iron Chef. We made brunch reservations, since he loves to work with grits and eggs.
Knowing that the American Airlines provides no food on their flights, even the ones that last for 5 hours, plus an hour stuck on the runway, we decided to eat to our hearts content.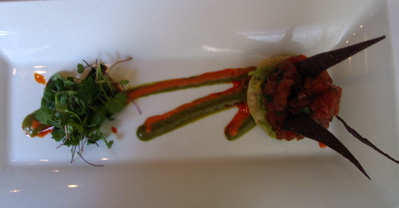 First we shared a tuna and avocado tartare with a micro green salad surrounded by those signature spicy sauces.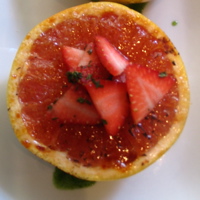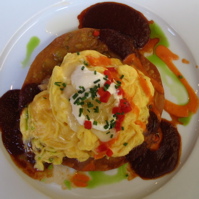 We also shared a caramelized grapefruit with mint and strawberry salad. For the main course I had eggs tostada. This was accompanied by white grits with fresh cilantro (no picture). Jeremy had a pressed pork sandwich (tasty, but nothing special for a picture).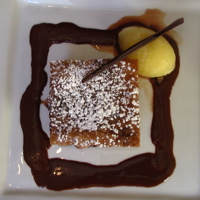 The dessert was outstanding! The pineapple chocolate napoleon was filled with a chocolate mousse infused with bits of pineapple. The dark chocolate pineapple sauce was so intense! The pineapple granita was cool and refreshing. I would love to experiment in making this.
I love taking pictures of the courses. People either think you are a freak, or they look at you knowingly. As it turns out our flight home took us about 20 hours due to thunderstorms. So it is a good thing we stocked up at Mesa Grill.
Posted by jennifer at April 3, 2006 03:02 PM
Comments
I'm always scared to take photos in restaurants. I'll have to be more bold. Do you just do it and not care what others think? I'm such a wimp.
I'd never seen anything with Bobby Flay until yesterday. We watched the "next Food Network Star" marathon, and he was one of the main judges. I like him.
I think Jeremy should audition for the next "Food Network Star" series. Seriously. He'd be great. He has the passion, animation, and charisma needed to sell a dish. I think he'd have a lot of fun. *I* would watch a cooking show if he were the host...
Posted by: J.D. at April 17, 2006 12:15 PM