« January 2005 | Main | March 2005 »
February 28, 2005
Bad Influence
Kim and I were in the back bedroom printing out some preschool materials when Emma shows up with a rice krispie treat and a big smile. I had a little talk with her about asking first. I knew the pan of goodies was in the garage on the poker table and took some definite planning and work to get a knife, go out to the garage, climb up on the table, remove the lid, cut the stale treat and remove the sticky mess from the pan.
We came out to the kitchen to find Diego, age 2, up on the table with the butter knife. He was having a hard time cutting his own treat. I had to snap a photo!
By the way I often post several days at once. So you probably want to take a look at the recent entries, the most recent is at the botton of the list.
Posted by jennifer at 08:10 PM
Comments
February 27, 2005
Landscape Beginnings
I have been sprucing up the yard with pretty spring pots.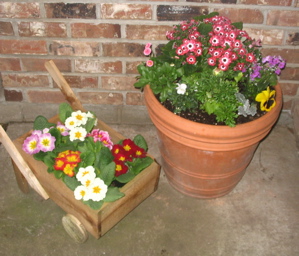 On Sunday we took stock of the plants available to us from John and Louise. Some of these plants came from our former house in Hubbard, divided and potted by John in the fall. They also have lots of shrubs and trees that they are willing to part with. I can't wait to get started.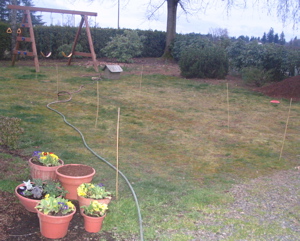 We used bamboo staked to mark out the grass path that will lead through the shade garden around the side of the house to the perennial and rose beds. If the weather holds out we plan on digging in on Friday and Saturday.
Posted by jennifer at 08:17 PM
Comments
February 26, 2005
Poker Dinner Party
Once a month Jeremy gets together with three other men to play poker. These men, a little older than Jeremy, have encouraged him to quit smoking, start a savings plan, begin a bible study, and yes taken a little of his money. To show his appreciation for their friendsip Jeremy cooked an outstanding meal for them and their wives.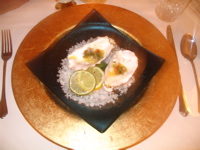 Appetizer
Pan Fried Oysters on the Half Shell
with spicy pepper relish
Soup
Poached Garlic and Spinach Soup
with crostini and créme fraiche
Pasta
Penne Rigata with Cream
and a "little" tomato sauce
Palate Cleanser
Champagne Sorbet
Main Course
Bistecca (porterhouse steak) with Balsamic roasted Onions
with Butternut squash mashed potatoes and oven roasted asparagus
Salad
Fresh mozzarella and tomatoes
with balsamic vinegar, olive oil, and sea salt
Desert
Lemon Curd Créme Bruleé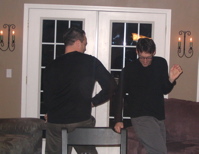 Frank and Kristi pretend to be sleeping as they wait for the pasta course. Later the women did quite a bit of dancing between courses. (Neil Diamond's
Sweet Caroline
was my favorite.) Frank and Mike couldn't resist dancing together.
Posted by jennifer at 09:10 PM
Comments
Hm. I'll bet that champagne sorbet would have been good with a little bit of rose flavor.
Also: Neil Diamond rocks.
Posted by: jdroth

at March 1, 2005 07:32 AM
Mmmm...Bistecca with Balsamic roasted Onions...Yummy!
Posted by: Rich R

at March 1, 2005 11:36 AM
Oh yeah! Jennifer was able to get the butcher to cut the steaks 2" thick. 2 steaks was more than enought meat for 8 people.
Posted by: jeremygingerich

at March 1, 2005 09:24 PM
February 25, 2005
Big Bad Wolf
I volunteer in Harrison's kindergarten class every other Friday, usually teaching a technology lesson. This week we began filming the Three Little Pigs. Harrison is playing the big bad wolf in his team.

At home I have often commented that Harrison's overacting and exuberance reminds me of Jim Carrey or Robin Williams. His portrayal of the big bad wolf was all that. While I coaxed the other kids to show some facial expressions such as happiness and fear, Harrison gave me hunger, craftiness, exuberance, desperation, and joy, with no prompting. I was more than a little surprised at the contrast between Harrison and the other kindergartners.
A related story... Last summer at Vacation Bible School the Yoder ladies led a session which included acting out wailing and weeping. They sought me out afterward delighted with Harrison's expressive nature. I replied that those Gingerichs really know how to express themselves.
I'll post the imovie when completed.
Posted by jennifer at 09:20 PM
Comments
February 23, 2005
Spelled E-M-M-A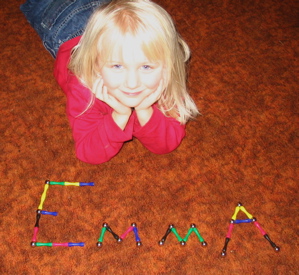 After two days away at an educational technology conference I pulled in to John and Louise's lane eager to pick up the kids. A very muddy Harrison greeted me waving and smiling at the top of the hill. I jumped out and gave hime a big hug. "I missed you. Did you miss me?" I asked. The ever practical six year old replied, "No, I had my sister with me the whole time."
Emma seemed to miss me a little more, and was snuggly and attentive all night long. We built her name out of these magnets. It's nice to have only four letters.
Posted by jennifer at 09:16 PM
Comments
Hank only has four letters, too. And Jenn. And Jerm.
Posted by: jdroth

at March 1, 2005 07:32 AM
February 21, 2005
When Mom's Away
The mice will play!
Jennifer is at a conference in downtown Portland. I went to spend the night with her last night but am in charge of dinner and bedtime for the kids tonight. (A big thanks to Jennifer - my sister - and Nicole - my cousin - for taking care of Harrison and Emma last night and today)
It's not Jake's Famous Crawfish...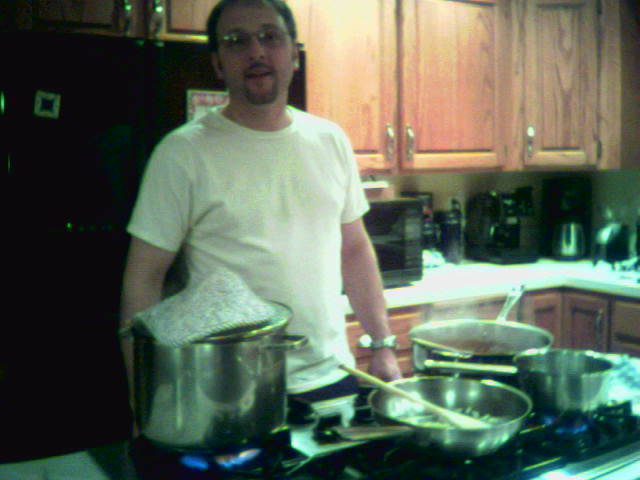 ...but it wasn't bad!
Thanks to Nicole for the pictures that she took with her phone!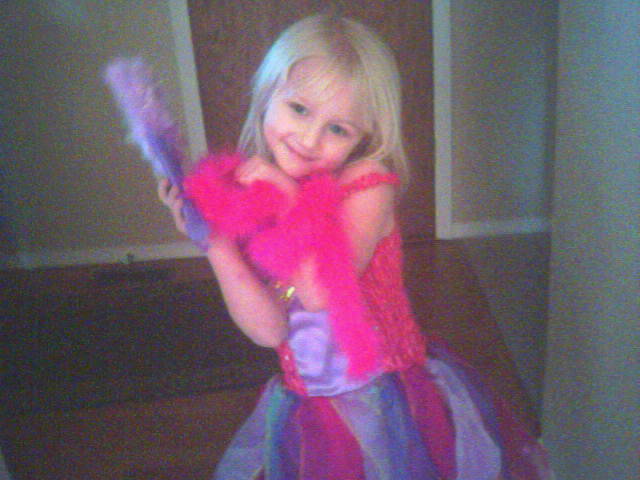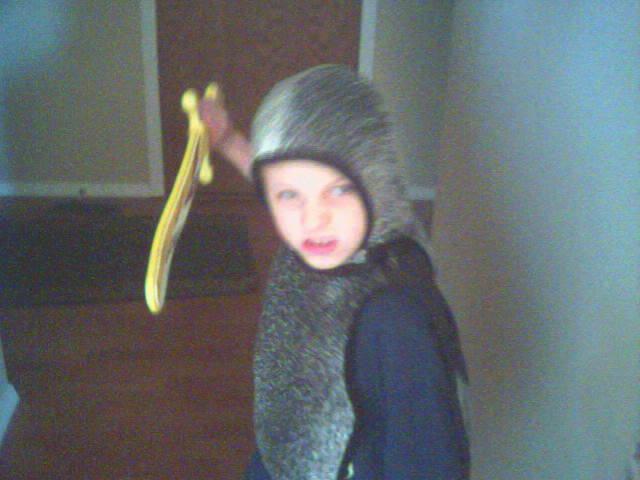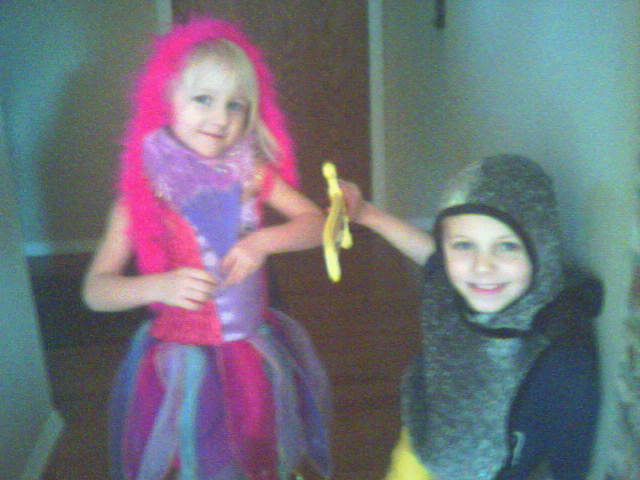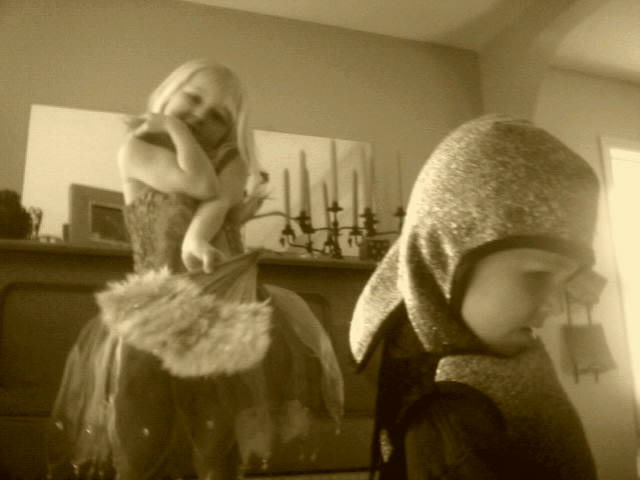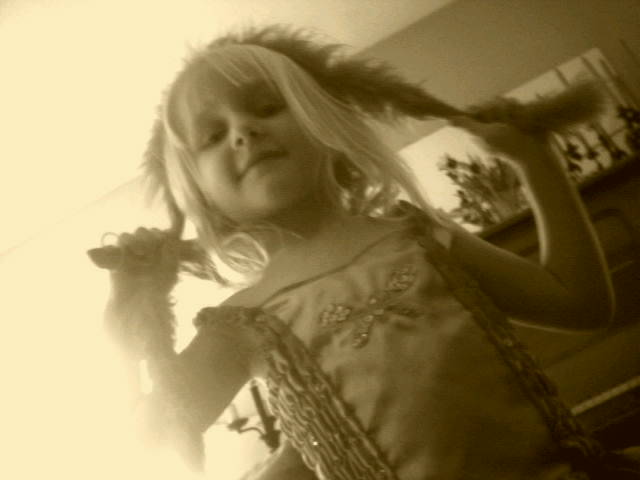 The kids had a GREAT day and were exhausted. They fell asleep within minutes of going to bed.
Now, to prepare for tomorrow...
Posted by jeremy at 09:22 PM
Comments
i had fun with Emma and Harrison and was glad to get the chance to take care of them! it is so great to live out here and get to spend more time with them, and of course, their parents. :) thanks for the good time, H & E, and we'll do it again sometime.
Posted by: jenniferlg

at February 24, 2005 04:27 PM
February 19, 2005
Beanie Babies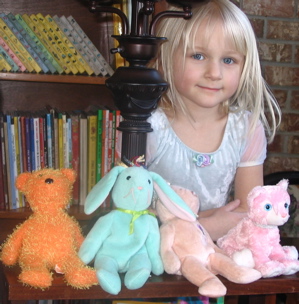 Aunt Judley and her friend Kari (otherwise known as the Beanie Baby Lady) came over last week with a Valentine gift for the kids. They both received a new beanie baby (small stuffed animal), candy and a card. Emma's new beanie is a pink kitty... such delight her favorite color and animal. She spends quite a bit of time with her collection of beanie babies on imaginary outings. In the photo above the beanie cousins are climbing the tree fort (lamp) to take a nap. I am imformed that the pink kitty doesn't really need a nap. Thanks Judley and Kari for hours of fun!
Posted by jennifer at 12:14 PM
Comments
February 18, 2005
Kids Say the Funniest Things
Mrs Smith, Harrison's kindergarten teacher, sent this story to me in an email:

I have to tell about a funny thing Harrison did. The other day the children were coming up with words that rhyme with dog. Harrison raised his hand and said blog. When he said it everybody gave him a confused look, so he started explaining what a blog is. He knows a lot about this!

Last night I didn't feel like cooking, and suggested going out to eat. The conversation went like this:

Me: How about Abby's Pizza?
Harrison: No, anything but pizza! I know it is strange that a 6 year old doesn't like pizza.
Me: How about chicken fried rice? Harrison looks at me in horror
Harrison: (breaking into a grin) I meant anything English.
Jeremy and I got a chuckle out of this
Me: Well, what is chicken fried rice?
Emma: It's not English, it's math.

Posted by jennifer at 03:14 PM
Comments
February 17, 2005
Impromptu Fondue
I made some chocolate sauce for our strawberries and ice cream. After dessert we were all in the living room watching David & Ericka's completed wedding video. Jeremy went to check on the kids. He found Harrison in the kitchen up on the counter with a sliced banana dipping it into the sauce.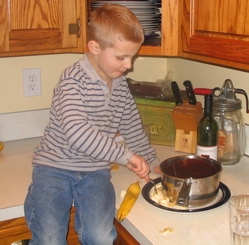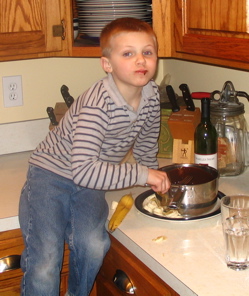 After the kids were in bed Jeremy and I just used a spoon!

Posted by jennifer at 12:46 PM
Comments
February 15, 2005
Dads, Forts and Owls
Guest Blogger: Jason Gingerich
Grandpa Douglas (as he is known around here) decided to make a hay fort in the barn on our property as a surprise for the girls. I'm not entirely sure whether he was reliving childhood hayfort memories, or just wanting to wow the girls, but at any rate he succeeded in wowing the girls. If you've never been in the barn here, it's a nice old wooden barn. It is red, and has immense beams with very few knots. The one downside is that the family of barn owls that inhabit the box in the haymow leave droppings, as do some friendly bats. But that didn't stop my dad. Before 8 a.m. (if I recall correctly) Monday morning, dad was banging on my door in the milkhouse, announcing that he was going to work on the fort. He was armed with a power leaf blower and dust mask. Four hours later there was a (quite impressive) hay fort, complete with hanging battery powered lantern, skylight, and carpet. He even put up a handrail along the scary-steep stairs up to the haymow.
At any rate, today was the day when he presented the girls with this fort. I was worried they'd be too scared to be up there alone. But when I asked if I could go up there while they were playing, they told me I could, as long as I didn't come inside the fort (which was fine by me. I remember enjoying hay forts, but I enjoyed the building more than the being-inside). They also told me I could go inside the house, and they would play for a while.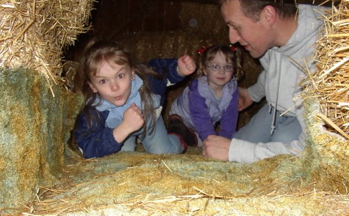 We also got a "bonus surprise". As we were admiring the fort, we heard the sound of a small bird chirping. It sounded like some songbirds outside the barn. Nevertheless, I went up to the "owl box" and peeked in. Sure enough, I saw a half-dozen small white eggs and one limpish own chick, chirping plaintively. We've had a remarkably warm winter here in Oregon; trees are budding, grass is growing, cats are delivering dead mice to our door--all the signs of spring. But baby owls made it really feel like spring, and less than a week after Groundhog Day.
Perhaps one of you who is an expert in birds can tell me whether this is a Sure Sign Of Global Warning, and the owl is in danger from being born too early, or whether barn owls have their young in February under normal circumstances. Meanwhile, I'll enjoy the "feeling of spring," and generous fathers. And try not to think about global warming and other catastrophes.

Posted by jennifer at 10:16 PM
Comments
I see that 'Uncle David' gets to go in. Has Daddy been invited in yet?
Posted by: Judy

at February 16, 2005 11:38 AM
February 14, 2005
Happy Valentine's Day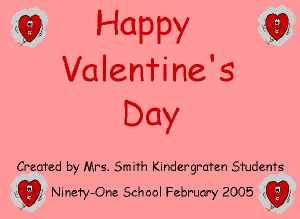 Harrison's kindergarten class drew pictures of what they love on the computer using Kid Pix. They also made these Valentine people with their eight grade buddies. Enjoy the slide show.
Posted by jennifer at 11:17 AM
Comments
February 13, 2005
Breakfast in Bed
On Sunday morning we woke up to quite a surprise... Harrison bringing us breakfast in bed. Jeremy and I were treated to toasted EGGO waffles with butter and syrup. I guess all of those Iron Chef episodes made an impression.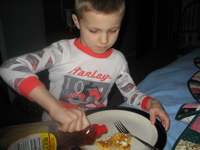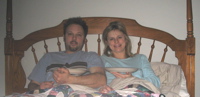 Posted by jennifer at 01:59 PM
Comments
February 09, 2005
Legomania
Harrison receieved a Lego dinosaur kit for Christmas. There are several different dinos you can make, but the t-rex is the most difficult. Last week we began constructing it, and today it is finally finished. It is very cool.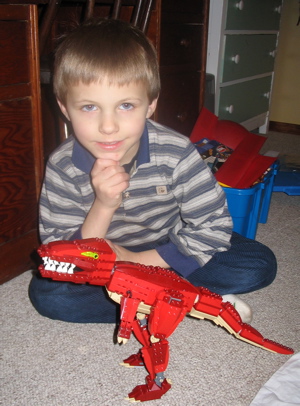 Everyone else got into the lego mood. Emma likes to find all of the girl Lego people, especially Hermione from the Harry Potter set. Jeremy is still in Harrison's bedroom building a castle, while Emma, Harrison, and I eat dessert.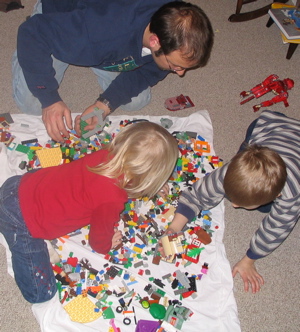 The sheet makes for easy Lego clean up.

Posted by jennifer at 07:43 PM
Comments
February 07, 2005
Valentine Preparations
Emaa is practicing her fishy kisses and decorating hearts. Harrison was delighted to learn how to make a perfectly symmetrical heart by folding a piece of paper in half and cutting out half a heart. Kids are amazed by the things we take for granted. Have you cut out hearts lately from pink and red construction paper? It is kind of fun and brings back lots of good childhood memories.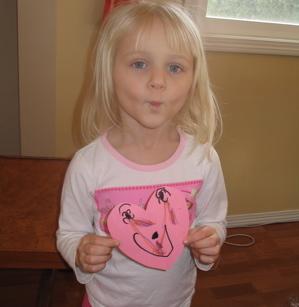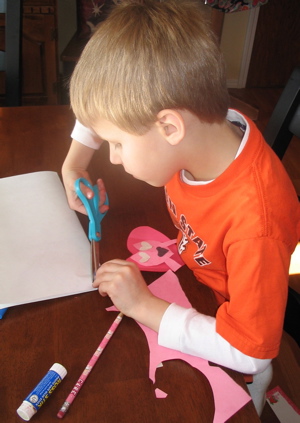 Posted by jennifer at 07:36 PM
Comments
February 04, 2005
Mud Pies
We have great plans for our very large backyard. So does Harrison. He envisions a soccer field and is trying to convince Jeremy to create soccer goals out of PVC pipe and rope. Pretty clever. In the meantime we have a very large mud pit. So why not make mud pies?
Posted by jennifer at 08:55 AM
Comments
Welcome back! Welcome back, welcome back, welcome ba-a-ack!
I like the idea of turning the back yard into a soccer field -- Noah would second that one. The PVC and rope is a great idea. I'm sure it would take no time at all for Jeremy to create a web of ropes to serve as a net -- probably not even as long as it took to haul five-hundred-thousand yards of gravel around the back of your house with a bucket-on-wheels!
When are you guys going to come over and check out the mini? JD even let me borrow his 19" monitor -- holy cow is that ever a huge screen! I sat on the bed with Noah last night and watched a Thomas DVD (first DVD on the mini) -- and of course, I fell asleep.
Adios!
Posted by: Jethro

at February 4, 2005 02:43 PM
Wow! Harrison is coming up with all sorts of work for you, isn't he? It's a good thing you have more energy than most adults I know.
Posted by: Judy

at February 4, 2005 05:41 PM
When does the mud wrestling begin?
Posted by: GrandpaG

at February 4, 2005 08:57 PM
February 03, 2005
Community at Play
Last weekend the kids and I went up to Ninety-One School to play. I was amazed at the number of people engaged in various activities. A group of hispanic men and teenagers played a game of basketball while their wives holding babies watched the younger children on the playground. Harrison and Emma took up playing with the children. They spoke the common language of follow the leader, push me on the swing, and chase tag.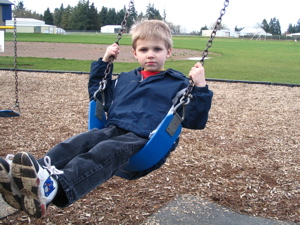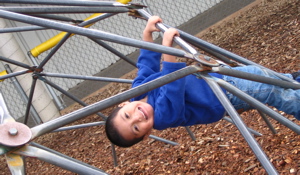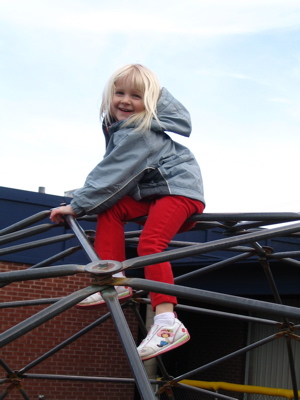 In the field a father and son played catch and hit balls. Another dad and daughter practiced dribbling the soccer ball and shots on goal. An older couple walked the half mile path around the perimeter of the school property. Karen Tro and Kristin Oakes showed up to do the same with kids and scooters in tow. Mt Hood stood brilliant white on the horizon completing this beautiful day.

Posted by jennifer at 08:04 AM
Comments
that's so wonderful to think of how kids that young just play together, regardless of race, class, or other differences... maybe that's an idea i should bring into the community center at Salem Mennonite- get families in the church to come and bring their kids to play with the Latino children who come to the community center. anyway, you've inspired me and it looked like Harrison and Emma had fun, too! :) maybe i can come with you sometime...
Posted by: jenniferlg

at February 4, 2005 05:23 PM
I love it that you're back with your blog. It comes up when I log on and it was toooo boring for a week. Thanks! I just want to know how you got Emma to put on pants rather than a dress. Impressive!
Posted by: Judy

at February 4, 2005 05:39 PM
Children understand "No Child left Behind".
Some "bigshots" do not.
Posted by: GrandpaG

at February 4, 2005 09:01 PM