« July 2005 | Main | September 2005 »
August 25, 2005
Rip Roarin' Roller Coaster
Harrison and Jeremy spent a whole day setting up this rollercoaster. My mom found the new unopened K'nex kit for $7.49 at Value Village. That's a great deal!


Harrison wanted to pose in this fashion to show off their creation.


Jeremy chose this pose.

Posted by jennifer at 11:50 AM
Comments
August 24, 2005
Leavenworth Getaway!
As part of our vacation, Jenn's parents agreed to take care of Harrison and Emma for a night so we could spend some time together. What a treat! It has been a long time since we had a night away to ourselves.
We chose the tourist town of Leavenworth as our destination. We stayed at the Bavarian Ritz Hotel. Check out our bed! Our room also had two bathrooms... one normal bathroom and a separate jacuzzi room! Jenn had two baths during our stay. Upon arriving we wandered the town in search of places we wanted to visit during our stay.
Being thirsty travelers, we made our first stop at Gustav's for a knockwurst and bier! We sat on the patio and soaked up the sun. We also needed a restaurant for a nice dinner. As it happened Visconti's was located directly across the street from our hotel on the opposite end of the building from Gustav's. We had received several other recommendations, but knew we had found the right place as soon as we walked in. Having secured a nice place for dinner, we walked around the corner to the München Haus because one sausage (or bier) is just not enough. We wandered the town aimlessly for a while before returning to our room to get ready for dinner.
We had a very pleasant meal on Visconti's balcony. It turned out to be a great way to end the day. We shared an appetizer of Clams in a herb broth as well as proscuitto wrapped prawns. Woohoo! I had a small cup of minestrone soup and Jenn had a salad. Our entrées were a steak with Merlot and Morel sauce for Jenn and a Herbed Rack of Lamb for me. Jenn had Spumoni Gelato and I had a double shot of espresso. Yum what a nice relaxing meal.
Jenn was sleepy in the morning and as usual I couldn't sleep past about 7:00 so I finished my book, "The Hitchhiker's Guide to the Galaxy," and then snuck off to the "Bavarian Starbucks" to load up on coffee for the two of us. I also grabbed some orange juice to make my sweetie a Mimosa! After lounging around for several hours (an another bath for Jenn!) we checked out and wandered around the town some more. We made a stop at the Cheesemongers Shop and selected some fine cheeses for nibbling (Smoked Oregon Blue from Rouge Creamery was our best choice by far).
All in all a great chance to get away and spend some time together.
Posted by jeremy at 02:42 PM
Comments
August 23, 2005
Homemade Slip n' Slide
Last week, when I mentioned to the kids that we would be going to Yakima for the week, there were squeals of delight. "We can play in the snow!" "Yeah sledding!" I explained that it is summer in Yakima and we would not be sledding. Emma wanted to know if there would still be snow. After a week of discussion the kids were convinced. When we arrived on Sunday evening it was still 90 degrees and very windy. In my opinion, perfect vaction weather.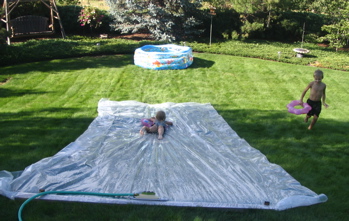 The hill in the backyard is perfect for sledding in the winter, and slip n' sliding in the summer. A trip to Fred Meyer and BiMart revealed that all Slip n' Slides had been sold out since mid July. Jeremy headed to the hardware aisle to purchase some plastic sheeting. As you can see the slide, complete with sprinkler, is a lot of fun, and wide enough for two.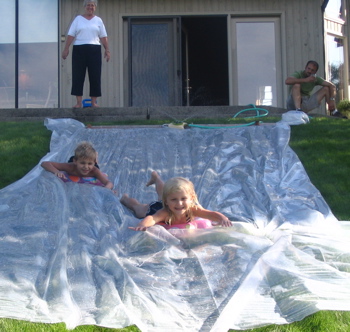 Jeremy and I have not yet tried out the slide ourselves, but there is still time. We expect to see some pictures of the Rogers family in action when they come to the Eder B&B in two weeks.
Posted by jennifer at 07:47 AM
Comments
That's gonna be cool!
(So you mean to tell me that Jeremy hasn't been on that thing yet???)
Posted by: Rich R

at August 25, 2005 08:33 AM
August 21, 2005
Books
Have you ever gone on vacation and forgotten your book? So frustrating. This morning as we packed for a week's stay in Yakima I collected everyone's books from bedside tables and end tables. I stacked them up on the kitchen table and was struck by the fact that we each had our own book to take along.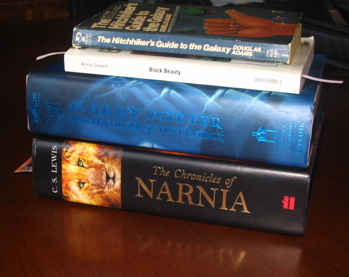 Emma has been listening to Harrison's chapter books for years but has not specifically chosen one for herself. Last week she came to me with Black Beauty. "Read this to me!" I told her I thought it was a little too much for her, but she was determined. After listening to most of the Chronicles of Narnia, Black Beauty by comparison is much easier to follow. The vocabulary is fairly simple and the first person perspective is very engaging.
Looking at that stack of books just filled me with contentment. A family of readers, now isn't that nice.
Posted by jennifer at 11:17 PM
Comments
August 20, 2005
The County Fair
Each year I look forward to an evening at the county fair. Not so for Jeremy - too hot, too dusty, too sticky. Still I convinced him to go with us, and he was a good sport once we arrived.
Over the last few years I have developed a plan for conquering the fair. First, before anyone is too tired to walk, we look at the animals. Emma and I are always pleased when we get to see baby animals. We saw piglets, chicks, lambs and kids (of the baby goat varitey : )

Emma really wanted to pose in the above farmer and wife cut outs. She put her head in place, looked over at the farmer and said, "Hey where's my boy? Oh Harrison, come be my boy!"
After the animals comes dinner - hamburgers, sausages, corn on th cob, deep fried onion, burrito, and lemonade. Then, while the grease settles, we go to the Pioneer Village to check out the blacksmith, broom makers, and Indian artifacts. Next, we saunter to the rides, passing by the flowers and vegetables. By the time we get to the rides, the sun is setting, it's starting to cool down, and the lights are glowing
.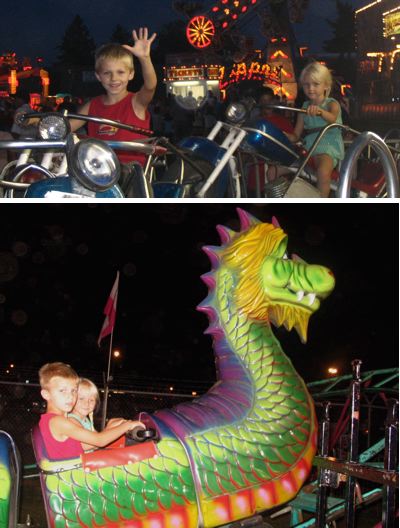 I could tell Harrison was pretty nervous about the rides, despite the fact that he kept repeating, "I'm not scared." We worked up from the cars, to the motorcycles, to the spinning bears, and finally to the mini rollercoaster. He held on for dear life, curled up next to Emma, who was squealing and grinning with delight.
Finally, we end the night with a fair treat. Jeremy had nachos with lots of jalapeños. I had a rootbeer float. Harrison chose cotton candy. And Emma chose a strawberry ice cream cone. The sugar in hand keeps the kids moving all the way to the car without being carried. All in all, a pretty good plan and a really good time.
Posted by jennifer at 10:51 PM
Comments
Sounds like a fun-filled day!
I'm with Harrison-- cotton candy all the way!
Posted by: Rich R at August 22, 2005 11:31 AM
Thanks for sharing...even though I stuck with the feelings that Jeremy initially had and didn't accept your generous offer at a fun fair day. I'm glad you had a great time!
Posted by: JudyGingerich at August 23, 2005 07:52 AM
oh- going to the fair with you last year was so much fun- this makes me lonesome for it. glad emma found "her boy"!
Posted by: jenniferlg

at August 23, 2005 08:44 PM
August 19, 2005
Children's Museum
On Thursday the kids and I, along with cousins Naomi, Lydia, and Maren, drove down to Salem to explore the A.C. Gilbert Discovery Village. Jennifer, Jeremy's sister, moved to Salem this year and had been wanting us to come down for a visit.
On the car ride down Harrison kept asking about the name of the museum, "Who or what is A.C. Gilbert?" Well, it turns out the he is the inventor of the Erector Set. How wonderful! This was one of my favorite toys growing up. My mom has a picture of me, about 10 years of age, with my arm around my Erector set robot. I was pretty proud of my construction. My kids have the same set, passed down from their Grandma and Grandpa, and have made the same robot. I'll post a picture next time we build...
The museum was a lot of fun for everyone. The kids especially enjoyed the bubble room.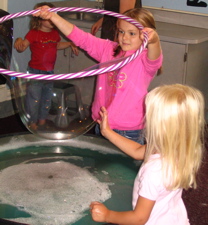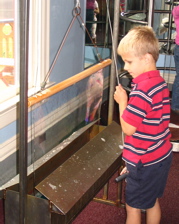 Next, we walked along the Willamette river front to the Carousel. One time around is never enough. Emma and Lydia were quite taken with the beautiful horses.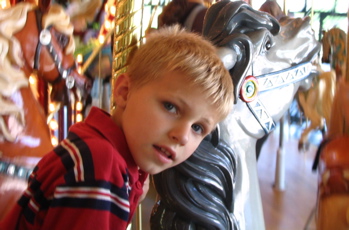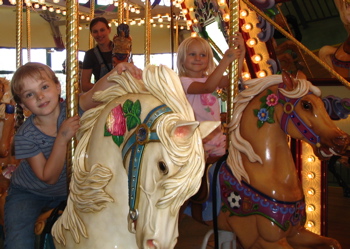 Finally, we walked a little further down Riverfront Park to the EcoEarth. Very cool.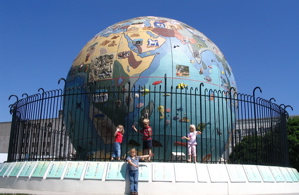 I asked Emma what else should I say about our trip. She shouted, "It was great! It was fun! It was juicy!"
"Juicy?" I asked.
"Yeah, the bubbles."
Sometimes it's hard to follow a kid's train of thought.
Posted by jennifer at 09:07 AM
Comments
it was super duper fun to have all of you come down for a visit. we'll have to do it again sometime when you can stay for dinner! and bring Jeremy and Jason, too. thanks for making the trip-
Posted by: jenniferlg

at August 23, 2005 08:46 PM
August 18, 2005
Silly Kitty
Yesterday afternoon as I went to load the dishwasher I glanced out the front window to see our newest kitty trying out the kids' scooter. We all had a great laugh and the kitty waited nicely for me to get the camera and snap a photo.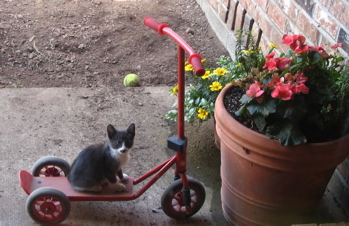 As I don't hold out much hope of survival for any farm cat on our property, the kitty does not yet have an official name. Emma and Harrison like to call him White Boots. Jd thinks Adolf seems obviously appropriate. Lisette likes the name Mischief.
Whatever the name, the kitty is mischievous. He is not easily deterred from climbing up your leg, jumping into your lap, and leaping onto the patio table in hopes of getting just one nibble. Looking on the bright side, he has survived being flung into the fire and runs away from all loud sounds, including car engines.
Posted by jennifer at 10:11 PM
Comments
Plus, as I observed to Kris, Adolf has a survivor attitude, which is imperative for a farm cat. He's bossy. He's in charge. That's usually a good sign. It's very cat-like, anyhow.
Posted by: jdroth

at August 19, 2005 05:50 AM
August 17, 2005
Act Your Age
Sometimes Harrison acts like a lot older than his age. Carolyn and Judy were taking care of the kids the other day and talking about Dad. Harrison, who hears everything even though he never appears to be listening, asked in a very adult like concerned manner, " How is great grandpa? I haven't seen him in a long time?"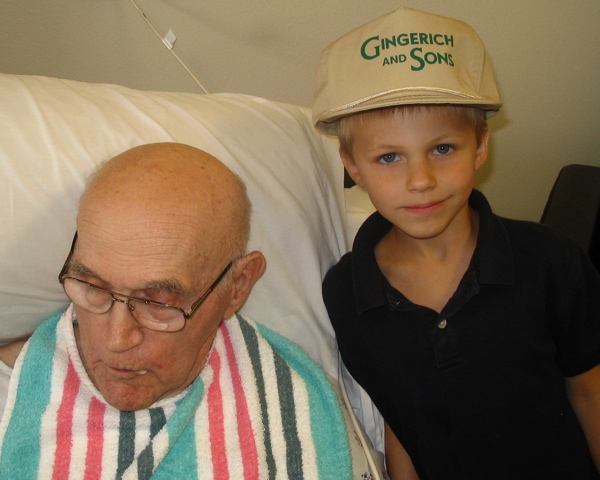 On Saturday evening Harrison had a chance to visit his great grandpa. He said, "Great grandpa's doin' fine. He likes tomato soup for lunch, just like we do." He had another visit last night with the cousins who went to sing for their Grandpa one more time before heading back to college.
Posted by jennifer at 07:51 AM
Comments
Harrison is a great son. Very thoughtful and loving. (Very emotional too!)
Posted by: jeremygingerich

at August 17, 2005 02:08 PM
August 16, 2005
Pool Party
Emma and I went to a pool party yesterday . She had lots of fun jumping, splashing, and sliding into the water.
Today she has informed me several times that she wants to have a pool party for her birthday. I tried to explain about Oregon weather in October, but she still insists that it would be a perfect party.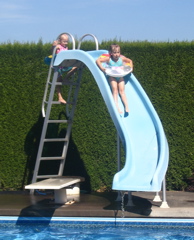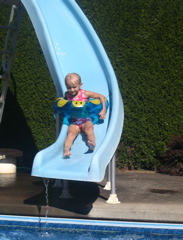 After reading this entry to Emma, she wanted you all to know that I had lots of fun talking at the party.
Posted by jennifer at 11:44 AM
Comments
I'm glad Emma got some time to spend with her friends. It looks like it was a nice afternoon.
Posted by: jeremygingerich

at August 17, 2005 02:08 PM
As an October birthday myself, I always envied those with June birthdays--summer parties, right after school got out. I completely sympathize with Emma!
Posted by: Lisa

at August 18, 2005 04:25 PM
August 12, 2005
Crazy Carrot
The kids couldn't wait to eat this crazy carrot when we pulled it out of the garden. You can't find carrots like this at the grocery store.


After a good scrub, the kids attempted to eat the carrot together, but the giggles got in the way.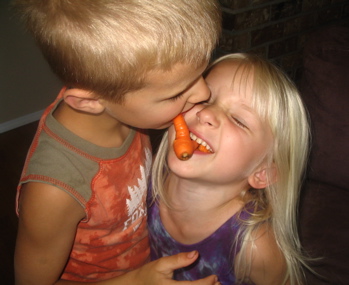 Posted by jennifer at 10:12 PM
Comments
August 06, 2005
Harrison's photos
While Louise, Emma, and I snipped beans, Harrison built Lego Duplo vehicles. His grandpa was impressed and encouraged Harrison to take a picture of his creation.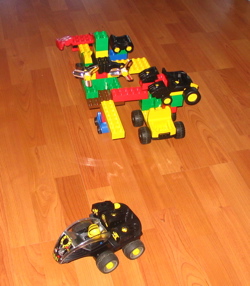 He also took a picture of himself. His grandmother looked at the shot and told him that he was supposed to smile. So he took another. I think the photos are funny.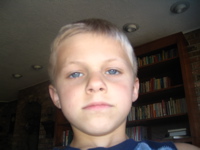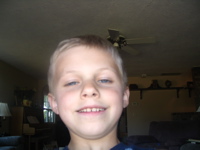 I wonder how digital photography will affect our culture? Young children can snap away, without wasting film and see instant results. Their photos can be shared quickly by email, the web, and even cell phones. I think images are very powerful and hopefully kids will become better producers and consumers of digital media through increased interaction.
When I teach people how to make imovies I start with just photos, text, and music. You can send a really powerful message with just these three elements when combined correctly. If you want to see a sample go to Sfett.net and click on the movie titled Sweatshops. This little movie has been shown around the world via the Internet. I was told that the high school student who created this video was contacted by the CEOs of the companies (Nike, Gap, Barbie) mentioned at the end of the movie. I guess they wanted to tell their side of the story.
Posted by jennifer at 09:00 AM
Comments
I think it's great that Harrison's using a camera at such a young age. You're right, Jenn, that digital photography offers a kind of instant gratification that hasn't been available before with the medium. I almost suspect that it's going to become more important to teach kids about the fundamentals of art/design as they pertain to photography than before. They're able to see instant feedback of their exposure, focus, etc.; now they can concentrate on composition.
He also took a picture of himself. His grandmother looked at the shot and told him that he was supposed to smile.
Nooo!
Photographers hate that kids are taught to smile for the camera. Camera smiles — by kids and adults — are so fake and forced. They're not natural. They're not pleasant. I prefer the first photo of Harrison (the one on the left) to the second photo, and by a wide margin. It's real. The one on the right has no sincerity to it.
I've been working with kids a lot lately, taking their photos. Inevitably, I waste several minutes telling them not to smile, not to look at the camera, not to pose. It's only once the kids have dropped these learned behaviors that the real photographs begin to happen.
Posed, smiling shots are fine for formal portraits, but they're generally not appropriate for other circumstances.

Posted by: jdroth at August 11, 2005 10:09 PM
(Not that I'm opinionated or anything...)
Posted by: jdroth at August 11, 2005 10:10 PM
Jd, I knew I'd get a comment from you on this post. I agree I like shots where kids are not smiling for the camera. If they are smiing in reaction to something else, that's great.
I'm surprised at how popular the cell phone camera has become. I see parents using them all the time at functions to take pictures of their kids. And now a picture of the person who is calling you can appear on your phone. Pretty nifty.
Posted by: Jennifer G

at August 12, 2005 08:51 AM
August 05, 2005
Beans
My first round of canning this summer produced 40 pints of green beans. I had lots of help snipping from Emma, Harrison, Louise and Jeremy. Emma also helped me wash the beans and fill the jars.
One of the best sounds of summer is the POP of a jar sealing. It makes me smile.
Posted by jennifer at 02:31 PM
Comments