« Welcome Emily | Main | March Weather »
February 27, 2006
Ice Skating Antics
We have been talking about going ice skating with Tiffany for the past few weeks. When my mom heard this, she wanted to participate too. With my parent's coming for a visit this past weekend, we decided to make it happen. Tiffany couldn't join us, but we are planning on going again soon, and we will need an extra adult to provided man to man coverage. Our backs were pretty sore after the hour and half spent hunched over holding up the kids.
On Saturday morning the kids were showing off, in stocking feet, the moves they would perform while skating. Harrison was speeding around the corners, while Emma performed a double toe loop. I tried to explain that skating is a lot harder than it looks. They found out for themselves once their skates touched the ice. However, they were not deterred or discouraged by the number of times they fell on that hard ice. It's nice to have tough kids.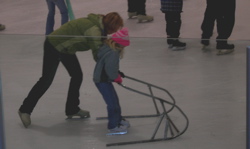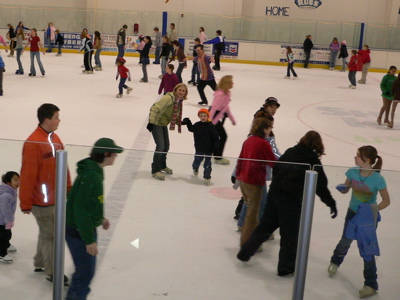 Thanks to my dad, who made himself the official photographer. You can watch the kids, and their parents, in action, if you'd like. Ice Skating Antics

Harrison and Emma learned a new word too, Zamboni!
Posted by jennifer at February 27, 2006 10:00 AM
Comments
we miss you guys! Just out on the web looking for some "606" to listen to. :) Betsy thought of your website, so we came to check it out. Nice pics!!! Hope to talk to you soon!
Posted by: Betsy & Bryan at March 12, 2006 08:44 PM