« Big Bad Wolf | Main | Landscape Beginnings »
February 26, 2005
Poker Dinner Party
Once a month Jeremy gets together with three other men to play poker. These men, a little older than Jeremy, have encouraged him to quit smoking, start a savings plan, begin a bible study, and yes taken a little of his money. To show his appreciation for their friendsip Jeremy cooked an outstanding meal for them and their wives.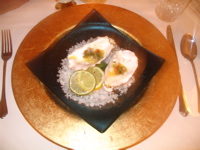 Appetizer
Pan Fried Oysters on the Half Shell
with spicy pepper relish
Soup
Poached Garlic and Spinach Soup
with crostini and créme fraiche
Pasta
Penne Rigata with Cream
and a "little" tomato sauce
Palate Cleanser
Champagne Sorbet
Main Course
Bistecca (porterhouse steak) with Balsamic roasted Onions
with Butternut squash mashed potatoes and oven roasted asparagus
Salad
Fresh mozzarella and tomatoes
with balsamic vinegar, olive oil, and sea salt
Desert
Lemon Curd Créme Bruleé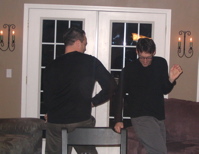 Frank and Kristi pretend to be sleeping as they wait for the pasta course. Later the women did quite a bit of dancing between courses. (Neil Diamond's
Sweet Caroline
was my favorite.) Frank and Mike couldn't resist dancing together.
Posted by jennifer at February 26, 2005 09:10 PM
Comments
Hm. I'll bet that champagne sorbet would have been good with a little bit of rose flavor.
Also: Neil Diamond rocks.
Posted by: jdroth

at March 1, 2005 07:32 AM
Mmmm...Bistecca with Balsamic roasted Onions...Yummy!
Posted by: Rich R

at March 1, 2005 11:36 AM
Oh yeah! Jennifer was able to get the butcher to cut the steaks 2" thick. 2 steaks was more than enought meat for 8 people.
Posted by: jeremygingerich

at March 1, 2005 09:24 PM