« Snow in the Mountains | Main | Extended Stay - Snow!! »
January 15, 2006
More Yakima Adventures
Harrison, our junior iron chef, had asked to make donuts about a week ago. I said that donuts were a major undertaking that would require a morning with plenty of spare time. That morning arrived and grandma even had a special donut maker. I was pretty skeptical, especially after reading the enclosed recipe booklet, but it seemed easier than dealing with yeast and a vat of hot oil.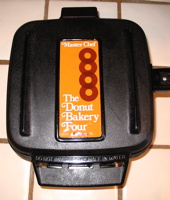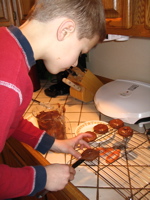 The donuts were weird, without much flavor and with a spongy texture. The frosting helped only a little. The kids didn't mind at all, but one bite was enough for me. Next time we make donuts I'll be making Caprial's Italian Donuts.
On Saturday evening Jeremy grilled some fabulous Latin Spiced Flank Steak fajitas. In the process of chopping the tomatoes for the fresh salsa, he managed to chop off a good portion of his thumb -- about 1/3 inch nail and 1/4 inch flesh on a diagonal. As you can imagine, stopping the bleeding was not easy.


On Sunday my Dad and Jeremy work to rebandage the guillotined thumb.
Later in the day we decided to go on a hike at nearby Cowiche Canyon Trail. I wondered if there might be a geocache at this site. We went online and find quite a few. We printed out the clues, put the coordinates into the GPS, and loaded into the Expedition to take my mom on her first geocache.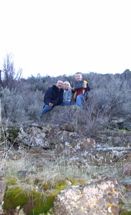 After a half mile down the trail we arrived at the coordinates and started looking. Jeremy and the kids climbed to the top of the canyon walls looking at all of the unusual rock formations. Our clue read, "This place really rocks." After a precarious, and nerve racking descent, Jeremy found the cache. The kids had fun exchanging trinkets while Jeremy signed the log book.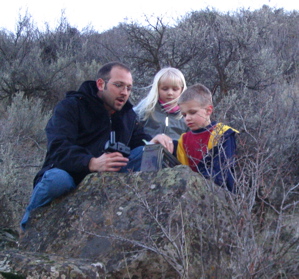 Posted by jennifer at January 15, 2006 02:56 PM
Comments