« Lawn Success | Main | Sprinklers Completed »
July 04, 2005
Biscuits and Gravy
Today being the fourth of July, I decided to make the all American breakfast, biscuits and gravy. The kids prefer the biscuits with homemade strawberry jam.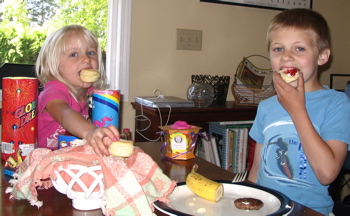 I learned to love biscuits and gravy during my six years in Texas. There was a Whataburger just down from my apartment and they served up some good biscuits and gravy. I have tried for years without success to make good sausage gravy. Last fall I stumbled upon this recipe in the Mennonite Country-Style Recipes cookbook that is just right:
Fry up 1 cup of Jimmy Dean hot sausage. Pour in 1 1/4 cups chicken broth and water and bring to a boil. Shake together 3/4 cup milk and 1/4 cup flour. Pour into boiling broth stirring vigorously until thickened. Season with slat to taste.
I use the recipe for flaky biscuits from the The Best Recipe by Cook's Illustrated. This is my essential cookbook that I couldn't do without.
Posted by jennifer at July 4, 2005 09:17 AM
Comments