« Crazy Carrot | Main | Act Your Age »
August 16, 2005
Pool Party
Emma and I went to a pool party yesterday . She had lots of fun jumping, splashing, and sliding into the water.
Today she has informed me several times that she wants to have a pool party for her birthday. I tried to explain about Oregon weather in October, but she still insists that it would be a perfect party.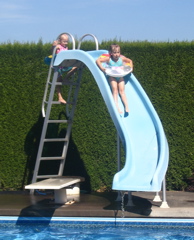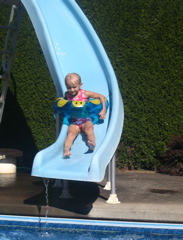 After reading this entry to Emma, she wanted you all to know that I had lots of fun talking at the party.
Posted by jennifer at August 16, 2005 11:44 AM
Comments
I'm glad Emma got some time to spend with her friends. It looks like it was a nice afternoon.
Posted by: jeremygingerich

at August 17, 2005 02:08 PM
As an October birthday myself, I always envied those with June birthdays--summer parties, right after school got out. I completely sympathize with Emma!
Posted by: Lisa

at August 18, 2005 04:25 PM