« Christmas Quilt | Main | Merry Christmas »
December 24, 2005
Christmas Eve
At church and through school money is regularly collected for those in need - hurricane victims, the homeless, or developing countries. Emma always responds with, "We don't know any poor people, do we?" And the truth is, we don't. Poverty is a pretty vague concept for my kids. So this year, along with Jeremy's immediate family, we adopted a family in need for Christmas. We bought clothing for each child and a couple of games for the family. On Christmas Eve morning we took out presents to the family's apartment in Canby. The mother, who had worked the night before until late, and had to go back to work in a couple of hours, nursed her baby on the couch. The other young children jumped around delighted with the gifts and plate of cookies. We stayed for just a few minutes, making small talk. I would like to make this a new tradition.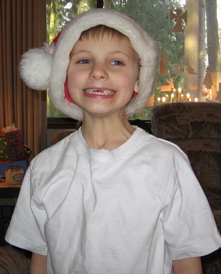 The rest of the afternoon was spent at John and Louise's house. We ate a big meal at noon, unwrapped presents, and played games. Jeremy and I gave the kids each one present this year, besides the stuff from Santa. They also received presents from grandparents and aunts and uncles.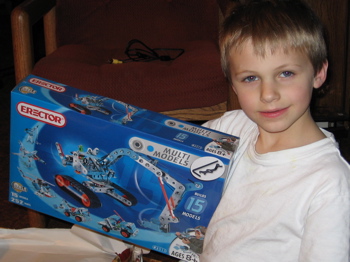 Harrison got an Erector Set. One of my favorite toys as a child. I still have it, but it is plastic and missing a few pieces. This new set is metal and much smaller. Should be fun for both of us.

Emma asked for a Barbie. I find Barbie's focus on unrealistic beauty and materialism a little offensive. So I searched and found a more kid appropriate barbie-like doll from the Only Hearts Club. The doll came holding a little orange kitty. I'm happy to say she is very taken with this new doll and her outfits.
Posted by jennifer at December 24, 2005 12:40 PM
Comments