« New York Welcome | Main | Rags to Riches »
March 30, 2006
Tourists in New York
Our first full day as tourist began early in spite of Jeremy's late (1:30 am) arrival. We awoke at 7:00 am (that's 4:00 Pacific Time) and retrieved some breakfast to eat in the room as we got ready. For those of you interested in the food, our hotel serves a wonderful European style breakfast every morning, which includes, chocolate and lemon croissants, crusty baguettes, prosciutto, a variety of cheeses, granola and yogurt. It was all delicious.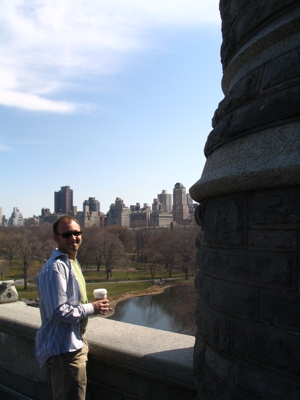 We decided to check out some museums and went first to the Guggenheim, but quickly found out that it is closed on Thursdays. As we had been walking along the edge of Central Park and the weather here is gorgeous, high of 68º, we decided to go for a stroll. We walked up to a bluff and looked around. An elderly woman approached us and asked if we would like a map of the park. "I never go the park without a few extra maps," she said, and drew out one of several maps from her bag. We were happily surprised by this act of kindness. She also gave us specific directions the Museum of Natural History. As we walked through the park, to the museum, I was astounded at the number of park volunteers pruning and weeding and tending to the grounds. All of the spring bulbs are up here, and the forsythia and cherry trees are in bloom. Feels like home.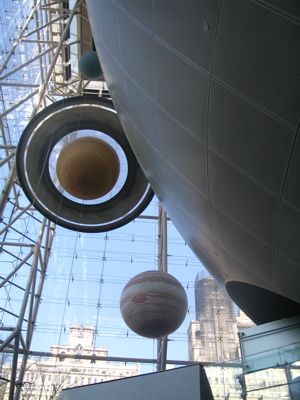 The Natural History Museum and Planetarium were impressive and enormous. Upon buying our tickets the cashier asked, "Where are you from?" When we told her Oregon she exclaimed, "Oh you must go get a picture in front of the will-uh-met meteorite!" So here I am in front of the Willamette meteorite found in Clackamas, Oregon many, many years ago.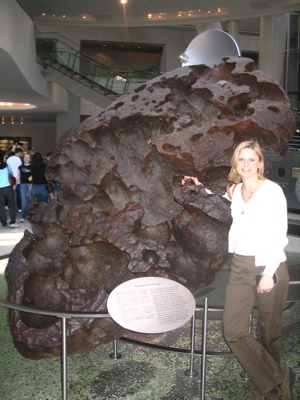 We spent two hours looking at lots of preserved animals, and artifacts, and dinosaur bones. The display on biodiversity was one of my favorites. A huge wall covered with a multitude of butterflies, fish, shells, etc.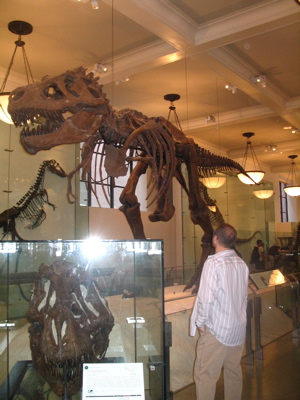 After three hours, we decided to move on, and find some lunch -- the one meal every day that has been left unplanned. Across the street from the museum was a subway entrance. We have been encouraged by many to use the subway, so we bravely descended and attempted to read the map on the wall. We decided to buy a metro pass and got a portable map from the man behind the glass. Again as we stood trying to decipher the route a woman approached us and asked if we needed help. She gave us a low down on New York navigation -- uptown vs downtown, streets vs avenues, blue line vs green line. Thank you New York stranger!
When we emerged from the subway we decided to start our iPod tour of Times Square. I found these tours on line at Sounds for Sights. For $12.00 we downloaded four, hour long, tours. We synchronized our iPods and began walking. The narrator explained how to walk with purpose, and without fear among the crowds. He told of the history behind many of the theaters. He had us walk into the lobby to examine the architecture. This was a great way to see Times Square and the Theater District. We stopped half way to share an enormous cheese steak sandwich at Roxy's Deli.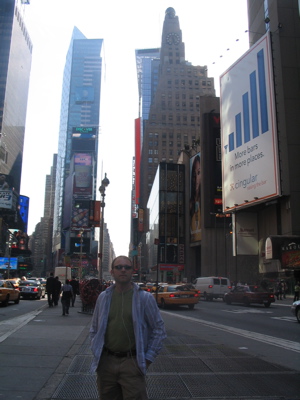 In the picture above Jeremy is listening to the strange sound emanating from the grate. The audio tour explained that one of the subway engineers designed the tunnels to produce natural harmonics. You cannot hear this organ-like sound unless you stand directly over this grate on the sliver of sidewalk in the middle of the intersection.
We enjoyed this tour so much, we decided to take on the next tour of Rockefeller Center. Again an amazing hour spent touring not just the Center, but also the Diamond District, St. Patrick's Cathedral, the Statue of Atlas, and Radio City Music Hall.
My legs were extremely tired. We rode the very smelly subway back to our hotel. After a long hot soak in the tub and a short nap, we were ready to head back out to dinner. We had made reservations last week at Po, Mario Batali's first restaurant. We selected the chef's tasting menu, and were not disappointed. While the tables around us received massive plates pasta, we were given small plates of a variety of dishes. We began with a marinated white bean crostini. Then we had a wonderful salad of asparagus, roasted red peppers and slivered almonds. Our first pasta course was one large butternut squash ravioli in a sage cream sauce. Our second past course was a small bowl of gnocchi in a meaty red sauce. Our entree was a filleted leg of guinea hen on some sort of round little pasta with scallions. The we had a wonderful cheese course. Finally for dessert Jeremy had an apple tart with vanilla gelato. I had a dark chocolate terrine flavored with amaretti cookies and criss-crossed with an espresso caramel sauce. One of the best desserts ever! Sorry no pictures, I forgot the camera at dinner.
We are running out the door for another full day. Please excuse all the typos. This entry was done in haste!
Posted by jennifer at March 30, 2006 02:57 PM
Comments