« A Short Hike in the Neighborhood | Main | Snow in the Mountains »
January 01, 2006
New Year's Eve
On the afternoon of New Year's Eve, we decided to invite over a few friends and cousins. I was feeling the need to entertain. I got busy happily making artichoke dip, bruschetta, and espresso brownies.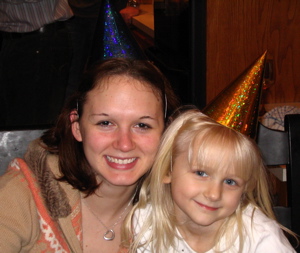 Emma really enjoys the young women that come to visit, whether it be her Aunt Jennifer, Cousins Kari or Erika or Nicole, or the girlfriends that accompany her male cousins. Above Emma and Erin, Adam's girlfriend, are ready to ring in the new year.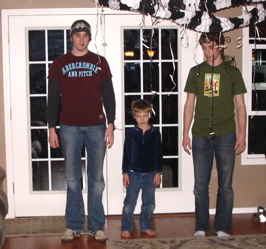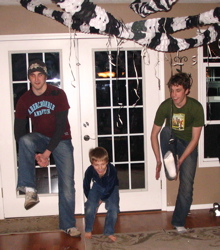 Our impromptu party was a lot of fun. I put on some Abba and all of the girls joined in on Dancing Queen. Jeremy and I danced a little together and received many compliments. This is pretty funny, since dancing together has always been a source of frustration. We tried to take lessons during our engagement. It was not fun or pretty.
Not to be outdone Adam, Luke, and Harrison performed the Hasselhof, a silly dance of which I do not know the origin. Adam, care to explain? Download (option-click on Mac, or right click to download link on PC) the video here.
We also played several games including Sorry, Uno Attack, and Guesstures. The kids went to bed easily around 11:00 after an early countdown. This was a fun way to celebrate.
Posted by jennifer at January 1, 2006 11:34 AM
Comments