« Silly Kitty | Main | The County Fair »
August 19, 2005
Children's Museum
On Thursday the kids and I, along with cousins Naomi, Lydia, and Maren, drove down to Salem to explore the A.C. Gilbert Discovery Village. Jennifer, Jeremy's sister, moved to Salem this year and had been wanting us to come down for a visit.
On the car ride down Harrison kept asking about the name of the museum, "Who or what is A.C. Gilbert?" Well, it turns out the he is the inventor of the Erector Set. How wonderful! This was one of my favorite toys growing up. My mom has a picture of me, about 10 years of age, with my arm around my Erector set robot. I was pretty proud of my construction. My kids have the same set, passed down from their Grandma and Grandpa, and have made the same robot. I'll post a picture next time we build...
The museum was a lot of fun for everyone. The kids especially enjoyed the bubble room.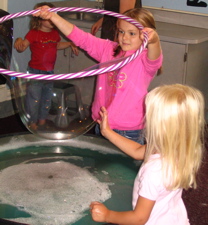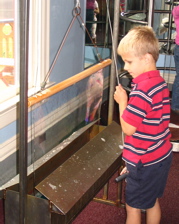 Next, we walked along the Willamette river front to the Carousel. One time around is never enough. Emma and Lydia were quite taken with the beautiful horses.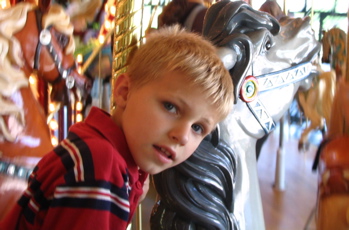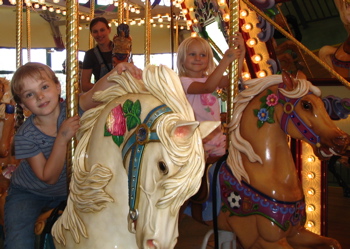 Finally, we walked a little further down Riverfront Park to the EcoEarth. Very cool.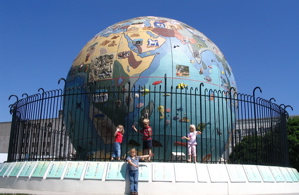 I asked Emma what else should I say about our trip. She shouted, "It was great! It was fun! It was juicy!"
"Juicy?" I asked.
"Yeah, the bubbles."
Sometimes it's hard to follow a kid's train of thought.
Posted by jennifer at August 19, 2005 09:07 AM
Comments
it was super duper fun to have all of you come down for a visit. we'll have to do it again sometime when you can stay for dinner! and bring Jeremy and Jason, too. thanks for making the trip-
Posted by: jenniferlg

at August 23, 2005 08:46 PM