« Little House in the Big Woods | Main | Cutting Down the Tree »
December 03, 2005
Light It Up
Jeremy, who sees every simple project as a chance for a major home renovation, decided to install outlets under the eaves to make putting up the Christmas lights easy.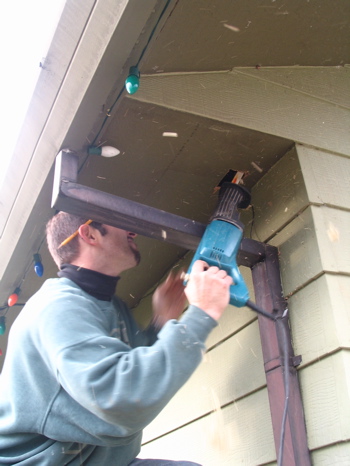 At leat in the future it will be easy. When the lights were plugged in and switches were flipped, the house looked a little like the one in the movie Christmas Vacation - EXTRA BRIGHT! Apparently Jeremy had wired them up to 220? The problem was fixedly quite quickly, but I think the story will remain for years to come.

Posted by jennifer at December 3, 2005 01:50 PM
Comments
You gotta love Christmas lights, especially when you do them "Christmas Vacation" style.
Posted by: jeremy at December 21, 2005 11:44 PM
Jeremy is Clark W. Griswald. You guys have a Family Truckster and everything... I wanna' be Cousin Eddie! ;-P
Posted by: Jethro at December 22, 2005 08:51 PM