« Books | Main | Leavenworth Getaway! »
August 23, 2005
Homemade Slip n' Slide
Last week, when I mentioned to the kids that we would be going to Yakima for the week, there were squeals of delight. "We can play in the snow!" "Yeah sledding!" I explained that it is summer in Yakima and we would not be sledding. Emma wanted to know if there would still be snow. After a week of discussion the kids were convinced. When we arrived on Sunday evening it was still 90 degrees and very windy. In my opinion, perfect vaction weather.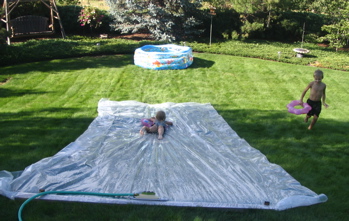 The hill in the backyard is perfect for sledding in the winter, and slip n' sliding in the summer. A trip to Fred Meyer and BiMart revealed that all Slip n' Slides had been sold out since mid July. Jeremy headed to the hardware aisle to purchase some plastic sheeting. As you can see the slide, complete with sprinkler, is a lot of fun, and wide enough for two.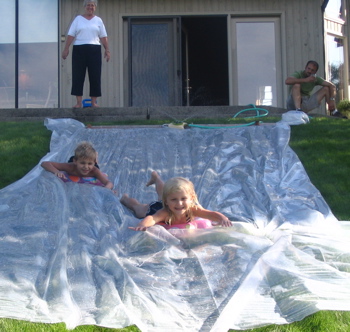 Jeremy and I have not yet tried out the slide ourselves, but there is still time. We expect to see some pictures of the Rogers family in action when they come to the Eder B&B in two weeks.
Posted by jennifer at August 23, 2005 07:47 AM
Comments
That's gonna be cool!
(So you mean to tell me that Jeremy hasn't been on that thing yet???)
Posted by: Rich R

at August 25, 2005 08:33 AM